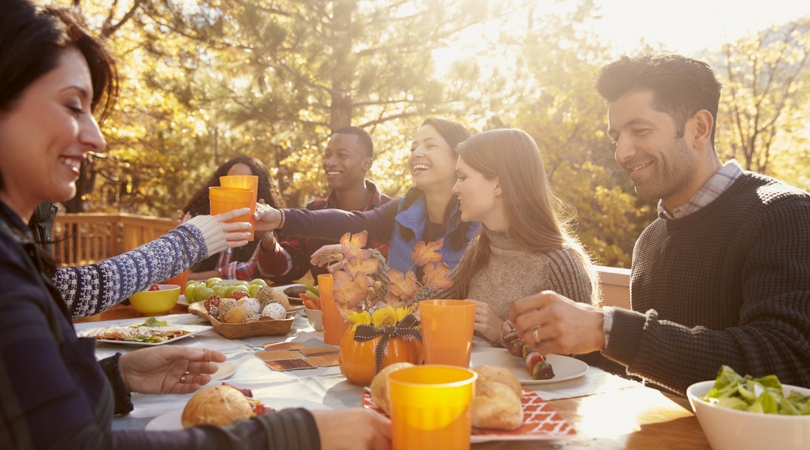 September 22nd is the Autumn Equinox, a time when "the Sun crosses the celestial equator – the imaginary line in the sky above Earth's Equator – from north to south," according to TimeAndDate. And we call this time when seasons change an equinox because, according to the site, "On the equinox, night and day are nearly exactly the same length – 12 hours – all over the world. This is the reason it's called an 'equinox,' derived from Latin, meaning 'equal night.'"
Here on the Canyon Park Apartments Blog we want to share with you some party ideas to help you celebrate the Autumn Equinox and the beginning of this beautiful season. Invite friends over, eat some of our suggested fall treats, and watch a fall movie. We hope you have a chance to have this party. Enjoy your month here in Puyallup, WA!
Fall Cheese Board
Put out the perfect fall cheese board as a delicious snack for your guests to enjoy. Set out your choice of aged cheese — aged cheddar works great for this, so add soft cheeses like goat cheese and blue cheese. Along with these and any other favorite cheeses, add crackers, nuts, olives, grapes, and figs. Arrange all the food on a platter and put it out for your guests to enjoy.
Apple Pie Bites
These small apple pie bites are delicious and great to serve to guests without much mess. This recipe comes from The Blond Cook. To make these treats you'll need brown sugar, apple pie spice, butter, chopped pecans, Granny Smith apples, and Pillsbury Original crescent rolls.
Autumn Spiced Nuts
These autumn spiced nuts are perfect to set out for guests to munch on. It's a pretty simple recipe from Culinary Ginger. To make this you'll need garam masala, cardamom, cinnamon, grated nutmeg, allspice, salt, rosemary, egg whites, honey, almonds, pecans, cashews, and pumpkin seeds.
Autumn Movies to Watch
You can find all kinds of great movies to watch with friends that will get you in the autumn mood. We suggest Dead Poets Society, You've Got Mail, Stepmom, Dan in Real Life, Remember the Titans, October Sky, Days of Heaven, and Harry Potter and the Prisoner of Azkaban. We know you'll enjoy any one of these movies!
Do you plan to celebrate the Autumn Equinox? What are your plans? Let us know in the comments below. Thanks for reading!