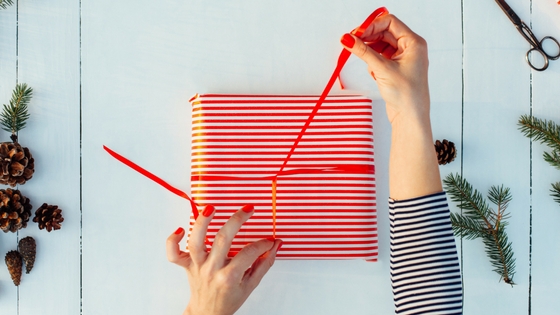 Want a way to spruce up your gift wrapping game? Today's post here on the Canyon Park Apartments Blog has some ways to help you do just that. We hope you enjoy your holiday season here in Puyallup, WA!
Do you know what Furoshiki are? Here's an explanation: "Furoshiki are a type of traditional Japanese wrapping cloth traditionally used to transport clothes, gifts, or other goods." It's basically a way of wrapping something up using cloth. This tutorial from Evermine shows us a great way to use this type of wrapping for holiday gifts. For this tutorial you'll need fabric and any other embellishments you want such as small berries and a card or name tag.
Stamps can be a great way to create a unique style of wrapping paper for your holiday gifts. Use brown paper wrapping and roller stamps or any other style of stamp. Be creative and let your imagination go! This idea comes from HGTV.
Plaid may be somewhat of a throwback, but it's a traditional holiday pattern that's great for wrapping. Wrap all gifts with different styles and colors of plaid paper complete with plaid bows as well! Find great styles of wrapping paper in the link above or maybe even at your local home store. Add tags and you're set. This idea comes from Country Living.
This is a great and eco-friendly way to reuse your old chip bags. After finishing off a bag of chips, wipe off oil and crumbs, then wrap your gifts with the silver foil side showing. This clever idea comes from Martha Stewart.
Velvet ribbon is classy and trendy this year. Find velvet ribbon and tie it onto your gifts wrapped in plain white paper. It's a cheap way to wrap gifts, but still looks nice and professional. This idea comes from Real Simple.
How do you wrap your holiday gifts? Share your ideas with us in the comments below!